For the life of me... I cannot understand why sex is so difficult for Christians to talk about. It's a tragedy really.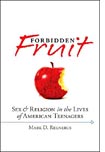 There is a new book out called , "Forbidden Fruit: Sex & Religion in the Lives of American Teenagers"
Statistically; it says that 80% of American Evangelicals think that sex should be saved for marriage. Yet...they are just as likely
(if not more so)
to have sex before marriage!
Other sex and marriage related stats like divorce rate, homosexuality, adultery, etc... are virtually the same in the church as they are in the world. So it stands to reason that Christians think lots about sex too! I do.
Sex statistics from The Kinney Institute
say that men think about sex every
52 seconds !
That's a lot of sex thinking for God hungry, born again, spirit filled , unashamed Christians!
It's an awesome, God-ordained, exciting, connecting, Covenantal part of Christian life that deserves to be spoken of, taught about, and spirit-led!
The reason why schools began to teach their students about sex, is simply because the parents were endangering their kids by leaving them in the dark about the bits and pieces. NOW... Christians are leaving EACH OTHER in the dark by not delving deeper into this well laid out world prepared for us by our King.
You're more likely to think about sex than God, yet in Christendom, we pretend this world doesn't exist... leaving those "hungry" for something deeper to find their answers in a secular world that speaks about it at will. Why? Because people are searching from something deeper in every area of life.
Without the Holy Spirit, sex can be a grand ole' letdown because it's discluded its designer from the equation.
It's not just a
"don't do it if you're not married"
, beginning and end. Once you're ready to light that fire, new cans of worms are opened up. It's a journey, like prayer is a journey that you learn more about as you dig.
It's only an uncomfortable topic because we're not used to thinking that it's OK to speak of in dignified company. This generation of Revolutionary Young Adults don't care about old religious thoughts and hangups. The rest of the church should take note.
There will be great fruit that comes out of this. Learning about it is an investment in your marriage.