For a few weeks, Starbucks is using a retro logo
, and now all Christendom is dreaming dirty dreams.
A Christian group based in San Diego found grounds for outrage over the new retro-style logo for Starbucks Coffee.

The Resistance says the new image "has a naked woman on it with her legs spread like a prostitute," Mark Dice, founder of the group, said in a news release. "Need I say more? It's extremely poor taste, and the company might as well call themselves Slutbucks."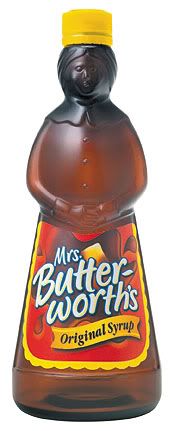 I raise my voice in support of my angry, outraged, boob dreamin brethren. For I too have struggled with logo lust. I plan on submitting the following letter to the Liberal, commie, hippie, licentious, monsters at Starbucks...
Dear filth monger:
As a teen boy... I was mentally and spiritually defrauded by a Mrs Butterworth's syrup bottle.

Her gracious rolling curves and generous voluptuous bosem caused me to look at sisters in the Lord... "differently"


I have not worn sweat pants since. The blame for this falls squarely at the feet of Mrs. Butterworth's.

I will henceforth discontinue my Slutbucks purchases. Hot Cocoa should be a pleasurable experience.. but only for certain parts of the body.
Amen. Selah. Peace be with you.
You know... if Christians lived a life where the sick were healed by shadows, they wouldn't have to be so stupid. Just sayin'